By: TSP Blog | @TSProckstars
A big part of our vision at TSP is honoring our employees. We always aim to support each other, and look for new creative ways to do so – whether it's company events, celebrating birthdays together every month, or supporting various charitable events as a united company.
We have a family feel at TSP, and often say, "our people are our product," which is why we so fiercely protect and support our people. So when one of our own is facing personal adversity and sickness, it is important to show our support collectively, and do what we can to help.
Ernie Almario is a business manager at TSP who has been with us since 2014. Ernie was at a work-related event last October – at a minority luncheon and tennis tournament – when he experienced a sharp cramp on his side. After an ambulance ride, he spent four hours in the emergency room. A CAT scan revealed a mass on his rib and three lesions on his spine. Ernie went for a PET scan the next day and it showed over 35 lesions. At 49 years old he was told by his doctor that he is Stage 4 Prostate Cancer and his PSA levels were above 200. Ernie had a clean medical history (no smoking or drinking, diligent about recommended preventive care checkups), Ernie and his family member's lives were changed forever.
Ernie decided he needed to do something positive with his diagnosis, and came up with the idea for his "Love Life" blue pins. His friends, family, and coworkers eagerly latched onto the opportunity to support Ernie through his challenging cancer battle, and the concept quickly caught on in his community.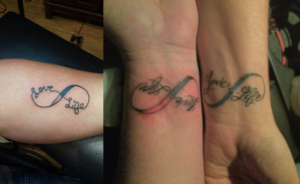 Ernie shares, "Everyone has been so supportive of me throughout this battle…family, friends, and the TSP family. I care about raising awareness for prostate cancer, and turning my negative situation into a positive for others. To see family, friends and co-workers at TSP wearing the pins makes me feel good. I'm so appreciative of everyone who is helping me raise awareness."
Five of Ernie's friends were so inspired by Ernie and his courageous fight that they tattooed the Love Life emblem on their bodies. Ernie's friends shaved their heads to show their support, as he experienced hair loss due to his chemo treatments.
Since his diagnosis, Ernie has endured two chemotherapy treatments and 14 rounds of radiation treatments. While he's certainly felt the painful physical side effects and struggled emotionally with his tough diagnosis, he is grateful that he hasn't lost any mental sharpness, and is able to continue working at TSP. He says his work provides him with a welcome distraction and sense of normalcy, and is thankful that TSP has been generous with time off for medical appointments.
In the face of his difficult situation, Ernie's positivity and gratitude are inspiring to us all at TSP, along with everyone he interacts with on a daily basis.
"These days, I take each day for the day that it is. It's a battle every day. My doctor gave me a worst-case diagnosis of 18 months, but I will continue to battle and beat this disease. My ultimate goal is to raise awareness with my Love Life pin and hopefully encourage other men to go for preventive checks (#manupgetchecked). If what I'm doing encourages one man to get checked out and catch this early, I will be happy. I also want to remind people that Life is a gift, and we should all love every day we are lucky enough to be on this earth," said Ernie.
Us #TSProckstars are #TeamErnie, and we want to do what we can to spread his story and raise awareness. Please share this blog post however you see fit – email, Twitter, Facebook, LinkedIn, anecdotally – let's all support one of our own in his inspiring mission to raise awareness for prostate cancer. Ernie, we're with you in this journey!