By: Serena Conour
We could all benefit from a little more organization in our lives, right? Well, with items you probably already have in your workspace or even your home office, you can redefine productivity. Some of TSP's teams have adopted a technique that proves a dry-erase board, some post-it notes and motivation is all it takes.
Taiichi Ohno, an industrial engineer at Toyota, developed a uniquely productive tool called a Kanban board, which is Japanese for billboard. Based on supply and demand, this system helps organize the logistical flow of a process. The effectiveness of this tool became immediately evident to the world, and it has since been implemented in industries across the globe. Our team, the industrial automation solutions (IAS) business unit on-site at Calhoun, was one of the first TSP crews to implement this practice. Once we found it was extremely successful, we shared with other team members, and it has spread like wildfire!
One of the most valuable aspects of this tool is its diversity, as it can be tailored to fit almost any industry: from retail to manufacturing, and even organizing the minutia of everyday households.
As a technician, the Kanban can be utilized for things like parts management, maintenance tracking, or production.
The premise behind our task board is simple – we divide tasks into three categories: needs to be done, doing, and done. We can generate new ideas, assign them a priority and attribute them to a specific technician. Once dispersed, the technician will follow the task until it is completed and a CSR is generated and closed. The different color note cards represent a "Fix," "Improve," and "Maintain" structure, which helps us stay on top of tasks that aren't necessarily applicable to the preventative maintenance system. "Improvements," for example, would be writing procedures, building test benches, or finding other ways to improve the process. "Maintain" would include activities like: new ideas for down days that aren't listed on the shutdown list, picking up office supplies or organizing the parts lockers. The "Fix" category is meant to note things we find on the machine that need to be repaired, or parts that have been replaced due to failure, but have not yet been fixed. Once notes are completed, we sign and date them and collect them for using on our next quarterly business review (so the customer can see how great #TSProckstars are)!
Here at Calhoun, we also use a Kanban for parts management. From the moment a part is pulled from inventory to when the replacement part is picked up from receiving, it is tracked every step of the way.
The use of Kanban for tracking parts has vastly improved our consumables replenishment and helps keep our site on top of the day-to-day parts orders that tend to fall off the radar. Tracking parts from multiple vendors, across various systems, can be time-intensive. Having a visual representation of those parts orders helps keep a timeline of where the parts are and when they are supposed to arrive.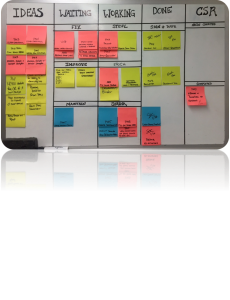 Our note colors for this chart are based on vendors: yellow for one vendor, red for another vendor, and blue for TSP. As data on an order is received, the note is updated with order numbers, tracking info or RMA numbers. Once a part has been received, the notes are used to fill in an inventory spreadsheet at the end of the week and then discarded.
Both of these Kanbans have become invaluable tools to complement our 5S plan for creating a lean, organized workspace. The Kanban board is just one small step in the progress we are making in our Calhoun office. The Kanban board symbolizes the "standardize" pillar of the 5s system (Standardize, Sort, Shine, Set in Order, and Sustain) that we implement here at Calhoun to improve operations. Look out for a future TSP blog on the 5s system! We encourage every company to customize and implement the Kanban board in their own unique way. It has truly helped us improve productivity, stay on top of tasks, and not let anything fall off the radar for our customers.